New Discounts. 15% OFF Coupon. Use source code OFF-Q291-UPXA in your cart when you order to save!
Akram Audio Converter 6.0
Akram Audio Converter lets you convert between Audio files. The program also supports extracting audio from Real video files.
1. Convert RAM, RMVB, RA, RM, RMJ to WAV, MP3, OGG or WMA files.
2. Convert WAV,MP3,OGG,WMA files To Real Audio files (RM).
3. Convert WAV, MP3, MP2, MP1, MPEG, MP4, AAC, OGG, AVI, MPC, MOV, QT, WMA, AMR, AC3, AIFF, AU or 3GP files to WAV, MP3, MP2, ACM, AC3, MP4, AAC, VOX or AMR.
4. Ripping audio CD tracks to WAV, MP3, WMA, AMR, and OGG files.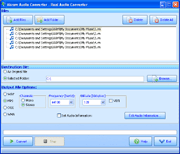 Testimonials
" My problems with the program stopping after the first file conversion, have ended. I used it last night with several files qued up and worked fine. Thanks for your fine work on providing this program. This is a good way to download RealAudio content and make it work on MP3 players."
Roy (Bud) Taylor
Virtual Optics Solutions
''''''''''''''''''''''''''''
" your product is excellent!
I am korean who were trying to convert real audio file into wav and into mp3 file just a few seconds ago. and now i have mp3 files converted from ram files with the magnificent help of your akram converter!
Thank you so much and god bless your company!"
Beneped
''''''''''''''''''''''''''''
" thanks alot for your supporting, by the way I did advertise you to my friends and they are really interested in your converter."
Wajdi
''''''''''''''''''''''''''''
"Thanks so much for your help! I really like the program, it works Super for the conversions and your price was the best for the features. I had checked out at least 15 different programs before settling on yours.
Steve Gaines